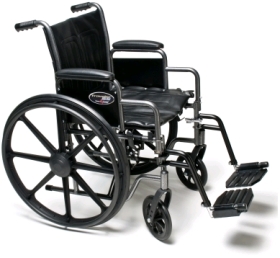 Be sure to choose a wheelchair based on both patient and caregiver needs. If the patient will always be pushed around, a lightweight wheelchair may only be required. Standard wheelchairs with larger rear wheels would be considered for the patient to propel themselves. The lighter the chair the easier it will be to lift, carry and put into a car.
Leg Rests
There are two types of leg rests available. Swingaway removable and elevating removable which allow you to raise your legs 45 degrees. Both types of leg rests swing away and are removable. All chairs come standard with the swingaway removable type of leg rests and are included in the price. Elevated removable leg rests can be ordered for an extra charge.
Arm Rests
Arm rests provide the patient arm and shoulder support. There are three types of arm rest options that can be be added to for an extra charge:
Full Length - run the length of the seat and the shorter desk length which will allow the patient to get closer to the table or desk.
Height adjustable - this option will allow you to adjust the height of the arm rest.
Removable/flipback arms - allow for easier transfer in and out of the chair from the removable or flipback arm.
Comfort
All wheelchairs come with a standard fabric or vinyl seat. To make the chair more comfortable, of if the patient sits in the wheelchair more than two hours daily, it is recommended you invest in a seat cushion. ACG Medical provides a variety of foam, gel, and contoured cushions specifically designed to meet the patient's needs. View our assortment of Wheelchair Cushions ...