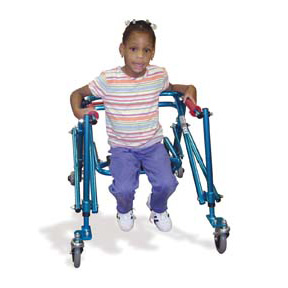 Pediatric Walkers are vital aids for children who have special needs. Pediatric Walkers not only serve as mobility assistance, but also help injured users rehabilitate. Until now, walkers were most popular with people who are over 65 years old and with musculo-skeletal or neurological problems.
During the last several years, walkers have improved considerably in their design and function so that they can assist children who suffer from problems like Juvenile Rheumatoid Arthritis in their knees and hips, have fractured a bone, or are recovering from a debilitating illness. In any of such cases, weight bearing can be directed through the arms to the walker allowing a more natural gait and body position. Many physical therapists prefer posterior (reverse) walkers for children with Cerebral Palsy and other neurological, orthopedic and developmental disorders.
Let us help you select the Pediatric Walker to meet the patient's fit and needs. Contact an ACG staff professional today at 1-844-463-0737 or sales@acgmedical.com. We are here to help you!