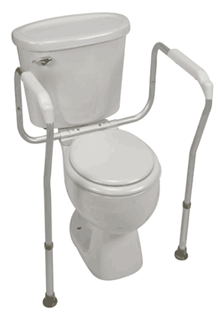 A toilet seat riser, also known as a toilet seat lifter, is a great aid for people who have difficulty getting on and off the toilet. The riser is attached on the toilet, making the distance to sit down and get back up shorter. Most models have hand rails for extra support and can be used mounted underneath the toilet seat, but there are some that can be placed on top of the seat, meaning no installation is necessary.
Height
In choosing a toilet seat riser, find one that allows you to keep both of your feet flat on the floor while allowing you to rise or sit comfortably.
Weight
Make sure the toilet set riser you choose will accommodate your weight.
Installation
Some toilet seat risers are installed under the existing toilet seats. This type is helpful if a permanent attachment is needed. Some models replace the existing seat and lid, or are bolted in place by removing the current bolts and replacing them with longer bolts to hold the seat riser in place.
Frames and Armrests
There are types of toilet seat risers that come with armrests or toilet seat frames that are specially made for people with stability problems when rising or have difficulty sitting and standing. Remember to check the width between the armrests since it may vary and be sure to choose one you are comfortable with.